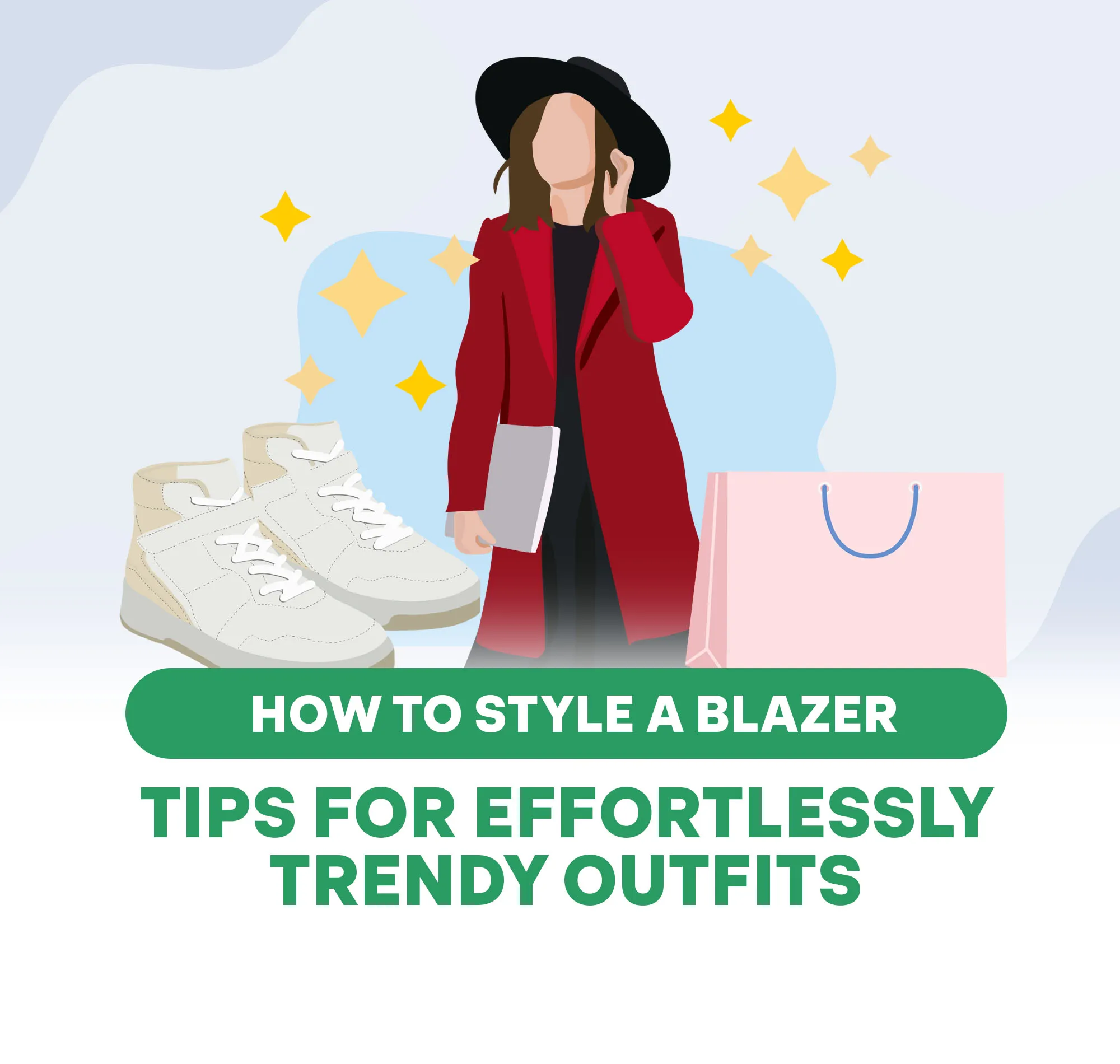 Thrift shop blazers can elevate any outfit. It can take your dull getup and make you look stylish and put together. Additionally, buying a blazer secondhand is not only a sustainable choice but can also save you a lot of money.
However, finding the perfect blazer at a thrift store is just the first step. Knowing how to style it is the key to creating a trendy outfit that looks effortlessly chic.
If you're unsure how to style a blazer, don't worry! We'll share top tips and tricks to make you look fashionable without breaking the bank. With the right techniques, you can make any blazer work for your style.
5 Tips for Styling a Blazer
A blazer is a classic piece that every person should have in their wardrobe. The following are creative ways how you can style a thrifted blazer.
1. Wear a monochromatic look.
Styling a blazer shouldn't be complicated. There are many clever ways to style it to achieve a polished outfit. One way to do this is by going for a monochromatic look where you wear different shades of the same color.
Wearing monochrome colors makes you come across as sophisticated. It also helps to elongate your silhouette, making you appear taller and slimmer. Plus, you can wear the look on various occasions, from a business meeting to a night out with friends.
When you go for this tip, don't be afraid to mix different textures and fabrics to add interest to your outfit. For example, you could pair a wool blazer with a silk blouse and suede boots. Just make sure the shades of the colors match as closely as possible so you come off as cohesive and refined.
2. Go casual with sneakers.
Who says all blazer outfits have to be formal? If you want a more laid-back look, try pairing your blazer with a pair of sneakers. The contrast between the formal blazer and casual shoes creates an easygoing yet aesthetic combination.
When wearing sneakers with a blazer, choosing the right type of sneakers is essential. Avoid wearing running shoes or athletic sneakers; instead, opt for trendy sneakers like white leather or canvas sneakers.
To create cohesion in your getup, pair your blazer and sneakers with a simple t-shirt or a classic button-up shirt. This is another technique on how to style a blazer in a way that makes you look put together. This combination adds comfort and makes you effortlessly stylish.
3. Rock some prints and patterns.
Blazers with prints and patterns are an excellent way to add personality and flair to your outfit. When blazer shopping, look for ones with subtle patterns, such as pinstripes or herringbone, that can be easily paired with other wardrobe pieces. Alternatively, if you're feeling bold, wear a blazer with a more eye-catching print, like floral or animal print.
Keep the rest of your outfit simple when styling a printed or patterned blazer. Choose neutral colors for your pants, skirt, and shirt to avoid a clash of patterns. You can also select one color from the blazer's pattern and match it with a solid-colored shirt or pants.
For a more daring look, try mixing prints. Pair a printed blazer with a printed top or pants, but make sure the prints complement each other. Avoid looking busy by going for prints with similar colors or patterns that are different sizes.
4. Dress down with skirts and dresses.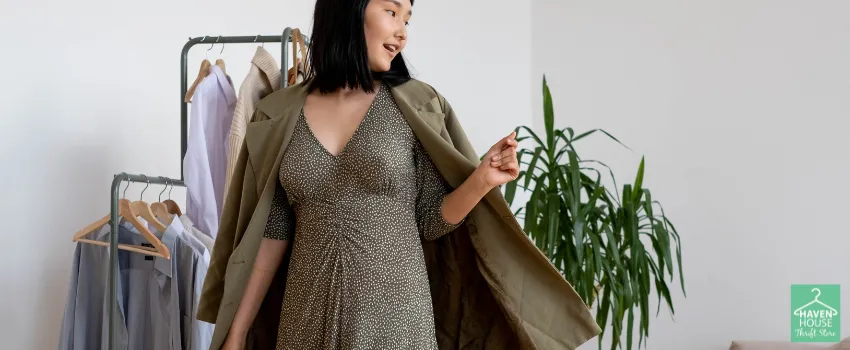 If you're looking for a way to dress down thrift shop blazers, pair them with a skirt or dress. This combination creates a unique and sophisticated look that is ideal for many occasions.
Consider the fit and length of both pieces when pairing a blazer with a skirt or dress. A fitted blazer pairs well with a flowy skirt, while an oversized blazer works well with a fitted dress. The skirt or dress should also be considered, with a knee-length or midi length being the most flattering.
As an additional tip, accessorize your blazer and skirt or dress with statement jewelry and finish with heels or flats. With this combination, you can dress down a blazer while still looking chic.
5. Accessorize with belts and scarves.
Belts and scarves are a game-changer when embellishing your blazer. Adding a belt can help cinch your waist, giving your outfit more shape and structure. Opt for a sleek, simple leather belt for a timeless look, or choose a bold, statement belt for a more eye-catching ensemble.
You can also add a scarf for a more relaxed vibe. A printed or colorful scarf can add a pop of color and personality to an otherwise simple outfit. You can wear it loosely around your neck or tie it in a knot to appear more sophisticated.
As you pair a belt or scarf with a blazer, remember the colors and patterns of the blazer itself. A neutral-colored blazer can be paired with a bold belt or scarf, while a patterned blazer may call for a more subdued accessory. Overall, have fun with it and experiment with combinations to find what works best for you.
Key Takeaway
When you know how to style a blazer, you can enhance any outfit and revamp your wardrobe. With the right techniques, you can go from casual to formal in no time. Whether you're going for a laid-back look with sneakers or rocking prints and patterns, a well-styled blazer can be the perfect addition to complete your outfit.
Upgrade your wardrobe without emptying your wallet at Haven House Thrift Stores.
Having a stylish and put-together wardrobe doesn't have to cost an arm and a leg anymore. At Haven House Thrift Stores, you can find high-quality thrifted blazers and other fashion items at affordable prices. Our thrift store in Panama City Beach is always stocked with clothing items that look new. Come visit us and discover how thrilling thrifting can be!