Thrift stores are more than places to find unique finds; they are also a sustainable way to shop. According to recent statistics, there are over 25,200 thrift stores in the United States alone. Unsurprisingly, this number continues to rise as people look for alternatives to fast fashion at more affordable prices.
Besides offering cheaper options, thrift stores also promote recycling and reducing waste. They also play a vital role in promoting a circular economy by keeping items out of landfills. Donating or purchasing items from thrift stores reduces the demand for new products, helping reduce their environmental impact.
With the many benefits of being a thrift store volunteer, why not become one yourself? By volunteering, you'll learn new skills and give back to the community at the same time. Let's explore the benefits of becoming a volunteer in more detail.
Unexpected Benefits of Volunteering at a Thrift Store
Volunteering at a thrift store goes beyond the obvious rewards. From personal growth to skill development, here are some benefits of volunteer work that may surprise you:
1. You get to socialize and make new friends.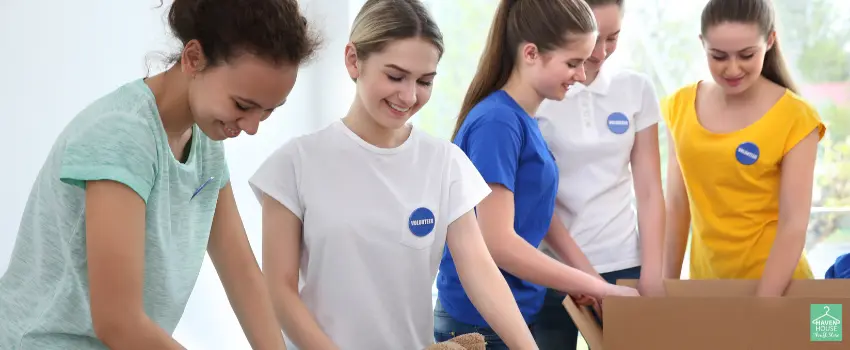 Becoming a thrift store volunteer allows you to interact with new people. Thrift stores are often bustling with activity, with volunteers working together to sort, organize, and display items for sale. This collaborative environment provides opportunities to meet and connect with fellow volunteers.
Volunteering at a thrift store also gives you a chance to befriend customers. From helping them find items they're looking for to providing friendly assistance, you can engage in meaningful conversations with them. It's a great way to expand your social circle, meet new people, and forge new friendships.
2. You develop new skills and gain valuable experience.
When you volunteer, you cultivate new skills and go through experiences you normally wouldn't get the chance to. Depending on your tasks, you may learn skills such as inventory management and customer service. You can use these skills when you enter various industries and can enhance your resume.
As a thrift shop volunteer, you get trained and guided in a supportive environment. You may receive training in visual merchandising techniques, pricing strategies, or inventory management systems. The hands-on experience can be valuable in building your confidence and competence, which you can use to your advantage in future job opportunities.
3. You contribute to sustainability and environmental conservation.
Thrift stores play a crucial role in promoting the reuse and recycling of items and reducing waste. By volunteering, you are directly contributing to these efforts by helping to sort, organize, and display donated items for sale.
Volunteers also educate the community about the importance of sustainable shopping. Through your interactions with customers and fellow volunteers, you can raise awareness about the environmental impact of consumerism. Additionally, you can promote more sustainable habits, such as buying second-hand items and donating unwanted items instead of throwing them away.
4. You gain a sense of purpose and fulfillment.
One of the more obvious volunteering benefits is the sense of purpose and fulfillment that comes from making a positive impact. Thrift stores often support local charities or nonprofit organizations, and by volunteering, you contribute to their mission and helping those in need.
As a volunteer, you also witness the direct impact of your work. You see the donated items go from messy piles to neatly arranged displays and watch the customers' excitement when they find hidden treasures. Knowing that your efforts contribute to something bigger than yourself can be gratifying and rewarding.
5. You have fun and enjoy a unique experience.
Another perk of becoming a thrift store volunteer is having a blast and enjoying a one-of-a-kind experience. There's always something going on in a thrift store, with new items and customers browsing through the selections. As a volunteer, you feel a sense of camaraderie among the volunteers and the customers, making the experience memorable.
Volunteering can also make you more inspired and creative. Thrift stores are treasure troves of unique and vintage items, and you may come across hidden gems that spark your creativity. From fashion finds to home decor, thrift stores offer unconventional pieces that can help you discover new ideas for personal style and DIY projects.
The Bottom Line
Volunteering at a thrift store is a fantastic way to give back to the community. Besides contributing to sustainability, you also feel accomplished and good about yourself. Whether organizing cluttered piles of items into well-organized displays or helping customers find treasures, becoming a thrift store volunteer is a fulfilling experience. So, why not consider volunteering and discover these unexpected benefits that await you?
Find unique pieces while making a meaningful difference at Haven House Thrift Stores.
At Haven House Thrift Stores, you can shop for hidden treasures while positively impacting your community. You can volunteer at our thrift store in Santa Rosa Beach, FL, or our other four locations. By volunteering, you can be a part of our mission to promote sustainability, reduce waste, and provide affordable options to our local community. You'll also help raise funds for men undergoing treatment and recovery from alcohol and drug addiction. Contact us today to find out how you can help!