Summer is finally here, and with it come outdoor activities to enjoy. Whether you're lounging at the beach or picnicking in the park, it's the ideal time to get outside and have a blast.
But with a new season comes the desire for a fresh wardrobe, and building a summer wardrobe can quickly cost you a lot. Fortunately, there's an alternative that saves you money and supports sustainable practices: thrifting.
By thrifting for your summer wardrobe, you reduce your carbon footprint while adding unique pieces to your collection. It's an opportunity to express your style and creativity and challenge yourself to think outside the box when it comes to fashion choices. In this blog post, we'll share savvy thrifting tips to help you build a summer wardrobe that's both fashionable and eco-friendly.
Who says you have to sacrifice style for sustainability? You can have the best of both worlds with the right summer fashion tips and thrifting strategies. Get ready to discover a whole new world of fashion possibilities!
Thrift Store Shopping Tips for Your Summer Wardrobe
When putting together summer outfits, thrift stores are a treasure trove of hidden gems waiting to be discovered. Here are thrifting tips to help you find the perfect pieces:
1. Start with a plan.
Planning is essential to successful thrift shopping. Before heading out to the store, take a few minutes to assess your wardrobe and identify the gaps you need to fill. Having a clear idea of what you're looking for lets you focus on your search and avoid feeling overwhelmed and distracted.
Once you have a plan in mind, setting a budget for your thrift shopping trip is also helpful. Thrifting can be addictive, and it's easy to overspend on items that catch your eye. If you limit how much you're willing to spend, you can avoid impulse buys. Remember, the goal is to find quality, affordable pieces that you'll actually wear, not to accumulate more clutter in your closet.
2. Search for high-quality fabrics.
One of the most significant summer fashion tips is to don breathable fabrics that will keep you cool and comfortable. Look for natural fibers like cotton, linen, and silk, which are durable, lightweight, and breathable. These fabrics allow your skin to breathe, preventing sweat and discomfort on hot summer days.
When browsing the racks at the thrift store, pay attention to the fabric's texture and feel. Choose materials that are soft to the touch and have a smooth finish. Avoid too thick or heavy fabrics since they can trap heat and make you feel sweaty and uncomfortable.
3. Look beyond your size section.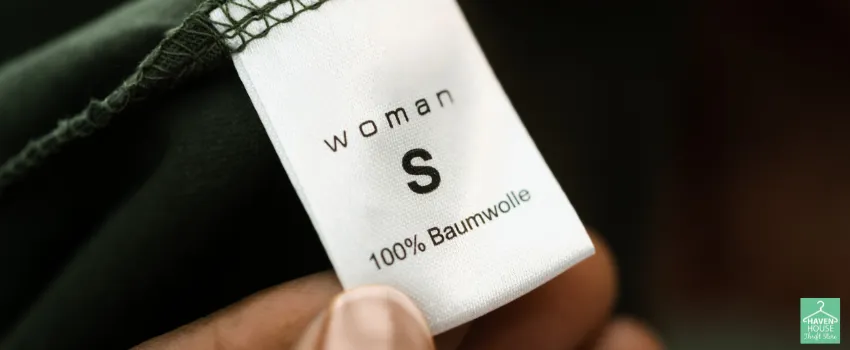 As a general rule of shopping, remember that clothing sizes vary. Don't limit yourself to just the section that corresponds to your size. Instead, explore other sections to find one-of-a-kind pieces. For example, an oversized shirt can be worn as a dress or tied at the waist for a trendy look. Feel free to try different sizes and experiment with thrift store outfit ideas.
Another tip when shopping at thrift stores is to keep an open mind. Sometimes, the best finds can be hidden in unexpected places. You can use a scarf as a headband or a colorful beach towel as a wrap skirt. Experiment with different styles and trends that you might not typically wear.
4. Try before you buy.
One of the most useful thrift store fashion tips is always to try on the clothes before purchasing them. Since thrift stores offer many brands and sizes, checking if the clothes fit well and flatter your body type is essential. What looks good on a hanger may not look good on you, so don't be afraid to step into the fitting room.
As you try on clothes, it's helpful to wear clothing that is easy to remove and put on, such as leggings and a tank top. Wearing these garments allows you to try on multiple pieces without the hassle of getting in and out of complicated outfits.
It's also smart to bring a friend along for a second opinion. A fresh pair of eyes can help you decide whether a piece is worth purchasing. Besides, having a friend with you can make the thrifting experience more fun and enjoyable.
5. Visit frequently.
If you're dedicated to finding the cutest summer outfits, you must visit the thrift store often. Thrift stores receive new items daily, so regularly checking in is a clever strategy.
Another reason to visit thrift stores frequently is that they often have sales and promotions. Many thrift stores offer discounts on certain days of the week or during specific seasons. Knowing about these sales can score amazing deals on high-quality items.
The Bottom Line
The summer season is a time to experiment with different styles, and thrift store shopping lets you achieve this without breaking the bank. By following the thrifting tips we mentioned, you can make wise choices when shopping for your summer wardrobe. With some patience and persistence, you can discover chic outfits that will make you feel confident and stylish all season long.
Get summer-ready with budget-friendly finds from Haven House Thrift Stores.
You don't have to sacrifice quality for affordability when shopping. We at Haven House Thrift Stores have a wide selection of gently used clothing, shoes, and accessories in excellent condition. Come by our thrift store in Carthage, TN, to upgrade your summer wardrobe without draining your account.