Finding old clothes in your closet can be like discovering hidden treasures. You may find unique pieces you haven't worn in a while that have been pushed to the back of the closet. If you frequently declutter your wardrobe, you might find letting go of these unworn pieces hard. Rather than throwing them away, you can upcycle clothes to transform them into unique pieces that can elevate your style.
Upcycling lets you unleash your creativity while minimizing the waste you produce. The best thing about it is that there are many ways to upcycle your clothes—you can repurpose them as new outfit pieces or home improvement items. If these ideas excite you, below are more creative ways to start upcycling your old clothes.
Creative Ways To Upcycle Old Clothes in Your Wardrobe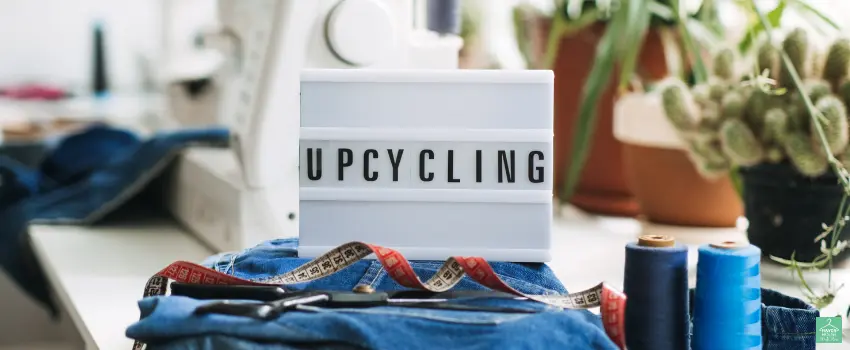 1. Make zero-waste makeup remover pads from old cotton shirts.
Convenient as they are, most makeup removers on the market are single-use, which can harm the environment. To lessen your waste, consider switching to reusable makeup remover pads that you can DIY from old cotton shirts.
You can create zero-waste makeup remover pads using old cotton shirts cut into square or round shapes. You can also sew a few layers of fabric to make it thicker. After sewing, you finally have reusable makeup remover pads to throw in the washer after every use.
2. Transform old clothes into food wraps.
Did you know your old clothes can also transform into functional kitchen essentials? You can recycle clothes to make food wraps to lessen your use of foils and plastics. Cut small patches from your old clothes to make food covers, then apply melted beeswax to add texture to the fabric. After this, let the patches dry for seven to 10 days. Then voila, you can use them to cover jars and food containers.
3. Turn patterned clothes into cushion covers and curtains.
Recycling old clothes can also be a great way to add a unique and personal touch to your home. Transform your colorful and patterned old shirts and dresses into beautiful curtains, and seat covers through simple alterations like hemming and stitching.
If you don't know how to sew, you can learn the basics through tons of online guides and tutorials. Some DIY websites also have sewing patterns to guide your project.
4. Create hair accessories from stretchable fabrics.
If you got tons of scrap fabrics from other upcycled clothing projects, you can save them to make hair accessories to lessen your waste. It doesn't have to be complicated. You can start with simpler DIYs like creating headbands, ponytail holders or scrunchies that you can use in your daily life. There are various sources for patterns and instructions online to guide you step-by-step.
5. Convert old fabrics into reusable tissues and wipes.
Like makeup removers, single-use tissues and wipes contribute to the massive waste released into the environment. Fortunately, you can repurpose old clothes into reusable tissues and wipes too.
You don't need advanced sewing skills for this one. You can cut your fabrics into any desired shape and place them around your kitchen and dining area. The best thing about these is they can be washed together with your other dirty laundry after use.
6. Make hand warmers from old shirts.
Save money on buying hand warmers during winter—you can recycle clothes and make them at home instead. All you need are some old clothes, scissors, and sewing tools. Start making two 5″x5″ square cutouts and sew them together. After that, fill them with uncooked rice and heat them in the microwave for 30 seconds.
7. Repurpose shirts into shopping or travel bags.
Aside from upcycled clothing pieces, you can also repurpose old clothes to make accessories to complement your outfit. One of the most interesting upcycling ideas is to turn your old baggy shirts into grocery or travel bags.
If you can't sew, no problem. There are no-sew ways to do this that you can find on the internet.
8. Use wool jackets to make pet bed cover.
Got pets? Upcycling old clothes benefits them too. For example, old wool jackets are made from warm and durable fabrics, making them ideal materials for pet bed covers that give your fur baby the best sleep during cold nights. If you have no pets, you can make upcycled pet bed cover for friends and families.
9. Upgrade your old clothes.
Upcycling is a great way to refresh your wardrobe if you don't know what to do with old clothes in your closet without throwing them out. If you think your pieces are out of style, here are many creative ways and ideas for upcycling old clothes:
You can dye faded or stained old clothes with fabric-safe dyes.
Make necklaces, bracelets, and chokers from fabric strips.
Turn your old jeans into shorts.
Create dresses from oversized shirts.
Add design on plain tops with paint or fabric markers.
Add patches to denim jackets or pants.
Sew beads or sequins to tops.
The possibilities are endless when you upcycle and recycle clothes! For more inspiration for your next DIY project, search for upcycled clothing ideas on Pinterest.
10. Makeover your shoes.
Clothes are not the only fashion pieces you can upcycle—you can transform your old pairs of shoes too! Depending on the material, you can embellish and repaint your old pairs to make them trendier.
If you got excellent drawing skills, you can let your imagination run wild and draw your favorite characters on your shoes using markers. You could embroider your canvas sneakers to add details and texture. In addition, you could upcycle your flip-flops by replacing the rubber straps with bold, printed fabrics.
Key Takeaway
Upcycling is a sustainable way to improve your old clothes and turn them into new items you could use in the long run. By recycling old clothes, you would breathe new life into forgotten items. Plus, you'd be unleashing your creativity!
However, if you're not the creative type who has the luxury of time to DIY all your clothes, you can always swap your old clothes with your friends and relatives. You could also donate your unused clothes to those needing affordable pre-loved garments.
Donate your old clothes at Haven House Thrift Store!
Sharing is caring. Give your old, unused clothes a new home by donating them to one of the most trusted Santa Rosa beach thrift stores. At Haven House Thrift Store, you can buy quality pre-loved clothes for your DIY project or donate old clothes under one roof. Visit us today and see what awaits you.