Decorating your home is an exciting process that can transform your living space into a cozy and stylish retreat. But the reality is that the cost of home decor items can add up quickly, making it difficult to decorate without overspending. Fortunately, there's a solution: thrift stores.
When shopping for home decor at thrift stores, the key is to keep an open mind and be willing to search for hidden gems. While some items may require fixing, the effort can be worth it. So, the next time you browse your local thrift store, remember the following thrift store decorating ideas. You might uncover the perfect item to elevate your home decor without breaking the bank.
Why Buy Home Decor Items at Thrift Stores
Thrifting home decor has become increasingly popular as people seek affordable ways to decorate their homes. Here's why thrifting home decor is a worthwhile endeavor:
1. You won't overspend.
Thrift stores offer an array of home decor items at a fraction of the cost compared to retail stores. Their affordability is particularly beneficial for those on a tight budget or those who simply don't want to spend a fortune.
2. You'll discover unique finds.
Thrift stores are treasure troves of unique finds, including home decor items. You'll likely come across rare items, making them stand out from the typical mass-produced pieces in chain stores. Buying one-of-a-kind pieces also adds a special touch to your home decor and makes your living space feel truly personalized.
3. You'll help out the environment.
Thrift store shopping is a sustainable and environmentally conscious choice. Buying pre-owned home decor items reduces waste and helps extend these items' life span. In addition, you're helping reduce the carbon footprint associated with the production of new home decor items.
Thrift Store Shopping Tips
Although thrift stores can offer valuable items for your home decor needs, thrift shopping can often feel overwhelming. Here's how to thrift the best home decor items like a pro:
1. Look for quality.
Sifting through the bins is essential to find quality items that will stand the test of time. Check for any damage or wear and tear before purchasing since these issues can be difficult to fix and may not be worth the cost.
2. Stay open-minded.
When thrift store shopping, you should keep an open mind and approach each item with a creative eye. While an item may not look much initially, a little DIY effort can transform it into something incredible.
3. Know your preferences.
Understanding your style can help you quickly identify items that will fit with your existing decor. Whether your style is modern, bohemian, or farmhouse, knowing your preferences can save you time and money while thrift store shopping.
4. Don't be afraid to negotiate.
Many thrift stores are willing to negotiate prices on items, especially if they've been in the store for a while. Feel free to ask for a discount or point out any flaws or damages.
5. Visit often.
Thrift stores receive new items regularly, so it's a good idea to visit often to see what's new. Additionally, visiting during off-peak hours can give you a better chance of finding valuable home decor pieces before other shoppers snatch them up.
Thrift Store Home Decor Finds
Now that you know how to thrift shop like a pro, here are home decor items to keep an eye on at thrift stores:
1. Baskets
Baskets are versatile and practical home decor items that you can easily find at thrift stores. From wicker to metal wire baskets, you can pick any design that suits your home's color scheme and design. Baskets are used for storage in many ways, adding functionality to any room. For example, you can use a basket to store your children's toys, shoes, blankets, clothes, and many more.
Baskets are also excellent decorative accents. You can use them to display flowers, plants, or candles. With so many possibilities, baskets are thrift store finds worth purchasing.
2. Coffee Tables
You can transform a pre-owned coffee table into a centerpiece in your living space. With some patience and strategy, coffee tables can be one of the best home decor finds you'll get. Thrift stores also often have many coffee table styles available, from vintage to modern, allowing you to find one that fits your aesthetic.
When buying coffee tables from thrift stores, search for sturdy materials such as solid wood or metal. Check for any chips, scratches, or dents, but don't fear signs of wear, as they can add character to the piece.
3. Books
Thrift stores have an abundance of books that you can use to decorate your home. Besides being great for reading, they add a unique touch to your bookshelf or coffee table.
Look out for special editions, such as leather-bound originals, first-editions, photography books, and cookbooks. These books can make great decorative pieces, adding style and substance to your home decor.
4. Lamps
A matching pair of used lamps can add symmetry to your bedroom or living room. Placing them on either side of your bed or table will make a significant difference in the overall ambiance of your space. These lamps may require minimal repair or repainting, but they will serve as beautiful and functional home decor pieces once restored.
When shopping for lamps in thrift stores, inspect them thoroughly for defects or damages. Check if the wiring is still in good condition and the lampshade is intact. If you are unsure about the safety of a lamp's electrical components, it would be best to have it inspected by a professional electrician before using it.
5. Teapots Sets
Teapot sets can enhance your home decor in many ways. They can be decorative accents on a shelf or as functional pieces during tea parties or gatherings. Furthermore, pairing a teapot set with matching cups and saucers can create a cohesive and sophisticated look.
Carefully inspecting teapot sets for any cracks, chips, or other signs of damage is crucial. You should also check that the lid fits securely on the teapot and that the spout is not broken. Teapot sets also come in many styles, from traditional and classic. Remember to take the time to browse and find the set that best suits your style and taste.
6. Picture Frames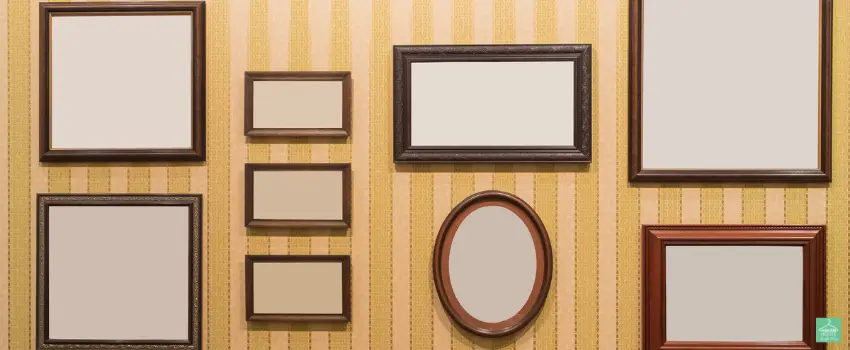 One of the best things about second-hand picture frames is that they can be repurposed and customized. You can paint them in a color that complements your room's color scheme, distress them for a shabby-chic look, or add decorative embellishments. These frames can showcase your favorite photos and artwork or even use them to create a gallery wall.
Besides standard picture frames, thrift stores often have ornate frames that can add a touch of elegance to any space. Go for frames made from wood, metal, or intricately carved designs. You can use these frames to showcase art prints, vintage posters, or even mirrors to create a stunning focal point in any room.
Key Takeaway
Thrift stores are a gold mine for finding exceptional, budget-friendly home decor pieces that elevate any room's ambiance. With a bit of creativity and perseverance, you can score some amazing finds that will add character to your home. Next time you want to decorate your home, visit a nearby thrift store for special items you won't find elsewhere. You'll be pleasantly surprised at the hidden gems you might find.
Find elegant home decor items without spending a fortune at Haven House Thrift Stores.
Discover the best deals on one-of-a-kind home decor items at Haven House Thrift Stores. We have a wide selection of goods you won't find in other thrift stores in Santa Rosa Beach, FL. Our inventory constantly changes, so you never know what treasures you'll find on your next visit. We have something from vintage furniture to chic accent pieces for every taste and style. Shop with us and enjoy the thrill of finding the perfect addition to your home decor without overspending!