In recent years, eco-chic weddings have become increasingly popular among couples seeking to make their special day unique and sustainable. With the rising costs of professional wedding services, thrifted wedding decor provides a budget-friendly and chic alternative for crafting an unforgettable celebration.
This blog will overview the trend toward thrifted weddings and offer guidelines for formulating a decor budget based on total wedding expenses. It will also present a breakdown of high-priced items in wedding budgets and explain techniques you can use to craft an eco-chic wedding with thrifted treasures.
The Eco-Chic, Thrifted Weddings Trend
The trend of eco-chic, thrifted weddings is garnering increasing attention as more couples seek to plan stylish and sustainable weddings. Thrifted wedding decor allows couples to find unique items at a fraction of the cost compared to traditional retail sources.
Couples can also look for thrift store wedding decorations to add vintage charm without compromising their commitment to sustainability. Eco-chic weddings are becoming increasingly popular due to their ability to reduce environmental impact while creating one-of-a-kind looks that reflect the couple's style.
Is It Cheaper to Decorate Your Own Wedding?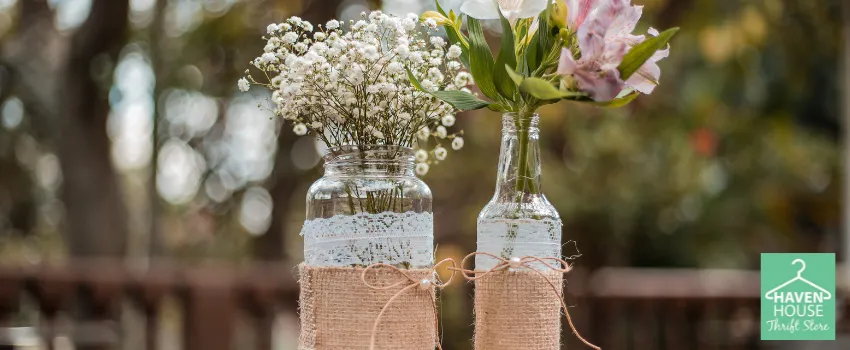 Comparing DIY decoration costs to those of professional services is a vital consideration when planning an eco-friendly event. Doing it yourself (DIY) can be more cost-effective, although the time investment may be more significant than hiring a professional.
The key is to understand the available resources and budget beforehand so there are no surprises. Thrift stores are great for finding items at discounted prices, and using these instead of buying new can help keep costs down. This also helps reduce waste and preserve natural resources.
Additionally, you can create thrifted wedding pieces with minimal financial outlay by reusing materials from thrift stores or other sources. Combining DIY and professionally sourced decorations will often yield the most desirable results while adhering to an eco-chic wedding theme.
What Is a Good Wedding Decor Budget?
When formulating a decor budget based on total wedding expenses, you must consider the cost of professional services versus DIY solutions. A wedding's overall cost should be factored into the decor budget.
For example, a more expensive event often requires higher-quality decoration to create an elegant atmosphere. Alternatively, an affordable wedding may not need as much decoration and can focus on simple yet sophisticated designs.
Moreover, location can impact the decor budget due to accessibility and availability of materials and services in that area. Costs associated with specific decorations should also be considered when planning the budget, including rental fees, purchasing materials, or hiring professionals for custom works.
What Are the Most Expensive Things in a Wedding?
High-priced items in wedding budgets can include venues, catering, photography/videography, floral arrangements, music, and entertainment services. Venues are typically the most expensive item, requiring a sizeable financial commitment upfront and may include additional decorations or service charges.
Catering costs vary based on the menu selection, number of guests, and other factors. Photography/videography is essential to capture memories of the day but can be costly. Floral arrangements add an aesthetic touch to any ceremony and reception but come at a price depending on the flower type, arrangements desired, and related services.
Lastly, music and entertainment services provide ambiance for parties but cost more than giving background music from a playlist.
Techniques for an Eco-Chic Wedding with Thrifted Treasures
Thrifted treasures can be used to craft an eco-chic wedding in various ways. Some thrifted wedding decor options include the following:
1. Incorporating thrift store discoveries into table settings.
Utilizing thrift store finds in table settings can help create an eco-chic wedding without sacrificing style. Secondhand items such as cloth napkins, dinnerware and glassware, candlesticks, and vases are easy to find at a fraction of the price of new options.
Couples can choose from various patterns and colors to mix and match for an eclectic style. Collected pieces should be washed before use. They can also be decorated with paint or markers for added color or details.
2. DIY lighting arrangements with repurposed items.
Creating a unique lighting arrangement for a wedding reception with repurposed items can be stylish and cost-effective. Decorative lamps, string lights, or chandeliers can be made from thrifted goods to provide attractive illumination without breaking the budget. Lights can highlight venue features, such as sculptures, artwork, or other decorative elements.
One way to upcycle discarded materials is to use mason jars as lanterns. Inexpensive tea lights and LED candles can be placed inside the jars and hung from shepherd's hooks or an overhead beam. Lamps made of vintage suitcases are another creative option; these pieces look whimsical when filled with fairy lights or colored bulbs.
For larger spaces, old bicycle wheels decorated with paper flowers or ribbons make beautiful hanging chandeliers that add an eclectic touch to any event. By incorporating second hand wedding decorations into their venue, you can create a one-of-a-kind atmosphere while staying environmentally and budget conscious.
3. Creating unique backdrops with secondhand materials.
Couples can add an eye-catching and meaningful backdrop to their wedding celebration by combining upcycled materials with creative techniques. Using thrifted items, such as window frames, mirrors, or old doorways, to create a feature wall is a great way to bring the eco-chic look to your special day.
Add your own touches with secondhand fabrics like vintage lace or burlap to make it more personalized. Repurposed furniture is also an excellent choice for creating seating areas that are both stylish and eco-friendly.
Feel free to mix different styles and use bright colors when assembling the pieces for your reception area. Thrift store wedding decor allows you to experiment with unique combinations of textures and patterns. Other ideas include using salvaged wood pieces as photo booth backdrops or even hanging old lanterns from the ceiling as a subtle decoration.
4. Assembling a sustainable wedding dress and accessories.
With the backdrop in place, it is time to focus on assembling a sustainable wedding dress and accessories. Many couples turn to thrifted wedding items for outfit pieces to ensure the most eco-friendly look possible. Here are some tips for making sure that your bridal ensemble is both beautiful and environmentally conscious:
Shop vintage stores for timeless pieces; these often have a higher quality than items found at chain retailers, which can reduce their environmental impact by lasting longer.
Invest in quality fabrics such as silk, linen, or hemp to keep the garment looking good and minimize its environmental footprint.
Look for natural dyes or dyeing techniques that use less water or fewer chemicals than traditional methods.
When purchasing jewelry, opt for secondhand pieces made with recycled metals instead of new ones made with mined materials.
Consider swapping garments with friends or family members who may already own something suitable instead of buying new items outright. Doing so can save money while still creating an original look!
5. Crafting personalized wedding favors from thrifted items.
Personalizing wedding favors with repurposed items can be an economical and creative way to add a unique touch to the special day. Thrifting for items to repurpose as favors is an eco-friendly way of reducing waste and upcycling.
Brides and grooms can find thrifted items at flea markets, secondhand stores, garage sales, or online. Examples of thrifted items used as wedding favors include vintage jewelry, kitchenware, glassware, furniture hardware, small antiques, and picture frames.
Key Takeaway
Thrifting, a sustainable practice that reuses resources and reduces waste, allows couples to craft an eco-chic wedding. From formulating a decor budget to breaking down high-priced items, thrifted treasures can help create unique decorations and save money.
Through carefully planning and creatively utilizing thrifted items, you can create beautiful, environmentally friendly, and money-saving weddings. Crafting an eco-chic wedding with thrifted treasures is an excellent way to reduce costs while celebrating your big day in style.
Transform thrift-store finds into your dream wedding decor with Haven House Thrift Stores.
Are you looking to create an eco-chic wedding using thrifted treasures? Look no further than Haven House Thrift Stores. When you visit us today, you can discover your potential decor at our thrift stores in Destin, FL, and transform your wedding into a sustainable masterpiece!